Dolphin Type Battery
E-mail: info@cnebikes.com
Brief Introduction:
Safe: The li-ion electric bike battery is more safe and reliable than the lead acid one. It does not explode or burn when bump, heavy stress, needle pricking, short circuit, overcharge and overheat. Environment-friendly: Accredited with CE, without any hazardous and noxious substances. Small in volume and light in weight: The li-ion electric bike battery is about 1/2 the...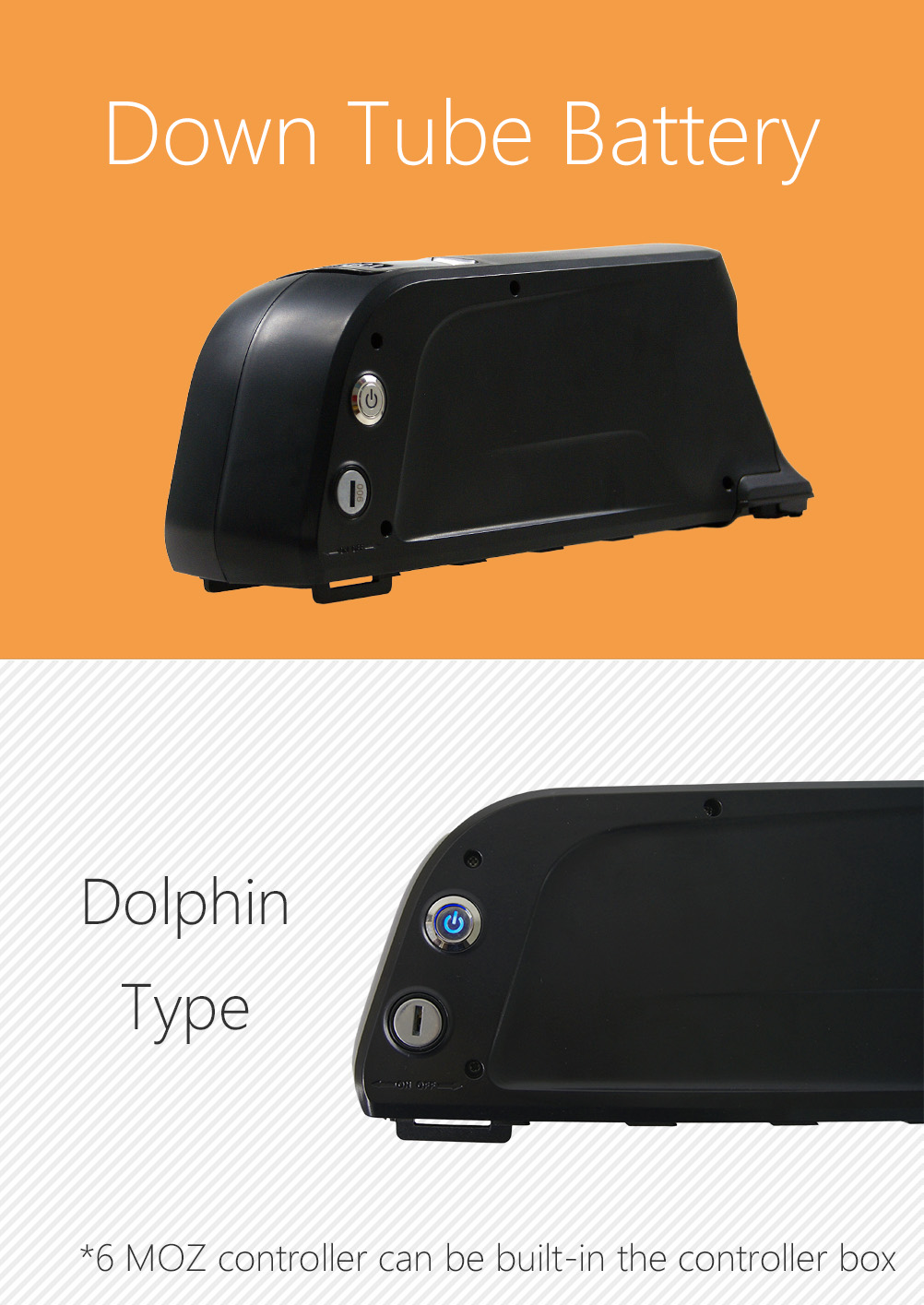 Features
A.Mounting bracket bolts onto the bicycle's water bottle mount.
Lockable and removable with 2 keys
B.5V USB port for charging devices

C.Charge level indicator

D.lightweight ~ 7 lbs

E.Dimensions: 9cm wide,11.5cm high,35cm long.It has a tapered shape with the back end at 5 inches tall and the front end 4 1/4 inches tall.

F.2 Amp charger included

USB CHARGING PORT


Provide power to motor also can charging
your phone at the same time.

ALUMINUM HOLDER
Secure Keep your battery on the frame.


Built-in BMS (BATTERY MANAGEMENT
SYSTEM),Protect the battery to avoid
overcharge and over discharge.

BATTERY CELL
18650 Rechargeable Lithium Battery cell.
No memory effect, recharge up to 1000 cycles.
Higher energy density and lower weight than

other types rechargeable batteries cell.

CHARGER


Intelligent charge system: voltage of
each cell can be detected ,each cell
can beprotected against overcharge,
over voltage ,short circuit and
overheat, and so that battery can be
charged balance.

PLUG


Supply relevant plug to your countries.

MOUNTING POSITION
---
Nominal

Voltage

Rated

Capacity

Battery

Material

Battery Cell

Dimension

Rated Discharge

Current

Max Discharge

Current

Cycle Life

36V

10Ah

Li-Polymer

3.7V 2000mAh

35*9*11.5(cm)

20A

25A

800(70%)

36V

13Ah

Li-Polymer

3.7V 2600mAh (S)

35*9*11.5(cm)

20A

25A

800(70%)

48V

10.4Ah

Li-Polymer

3.7V 2600mAh (S)

35*9*11.5(cm)

25A

30A

800(70%)

48V

11.6Ah

Li-Polymer

3.7V 2900mAh (S) (P)

35*9*11.5(cm)

30A

35A

800(70%)
Immediately Consult
Tag:lithium battery,down tube battery,high capacity battery,ebike lithium battery
Related products
Related News
Other Products
New Products